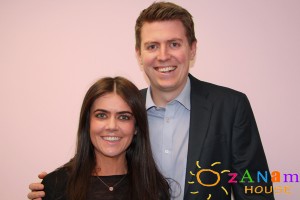 How are you feeling? How do you think you will do on the night?
"We're feeling nervous but excited. There are a bit of jumps in our dance so it will be touch and go. We seem to get it right 50 percent of the time!!"
What do you think of the other competitors?
"Everyone is really friendly and seems to be enjoying the rehearsals. All the dancers seem to be coming along nicely"
Who do you think you have to watch out for? Who do you think is the best dancer from your fellow contestants?
"Jim has got the ballroom moves but the chemistry between Sarah and Joe can't be ignored!!"
If you could have one dance with anybody you liked in the whole wide world who would it be and what dance would you like to dance to?
Conor: "I think James Brown could definitely have given me a few tips for my dance on the 26th"
Sally:" 50cent because I have always had a secret desire to appear in a rap video"