THANK YOU all for helping us to raise an incredible €41,150 for our summer youth programmes in Ozanam House Resource Centre
HUGE congratulations to Joanne & Rory dancing 'The Jive' – our Ozanam Come Dancing Winners 2017!
WHAT A NIGHT! Ozanam Come Dancing 2017 was held in Liberty Hall on Friday 10th March. A sell out crowd filled the venue and they were wowed and amazed by our 12 incredible volunteer couples who danced the Salsa, the Tango, the Charleston, the Jive, Disco and Paso Doble among others.

Our amazing host Brendan Courtney was joined this year by our dance expert and world ballroom champion David Roberts and of course our celebrity judges Katherine Lynch, sharing her new found expertise from her performances in 'Dancing with the Star's and the music legend Mary Black, who also treated us to an iconic musical performance on the night. What a treat it was for us all!
Our volunteer dancers came on board from near and far. We welcomed staff and volunteers from within Ozanam House, staff from SVP House – shared services and East region offices and from some of our supporting companies including McCann FitzGerald, Abbey Capital, Symantec, Danceworld, AIB and Business in the Community Ireland. A HUGE THANK YOU goes to them all for their hard work, commitment and support. They put on a truly incredible show on the night and amazed everyone with what can be achieved after only 9 weeks of lessons.
OUR WINNERS – Massive congratulations goes to Joanne and Rory who danced 'The Jive' and are Ozanam Come Dancing Winners 2017!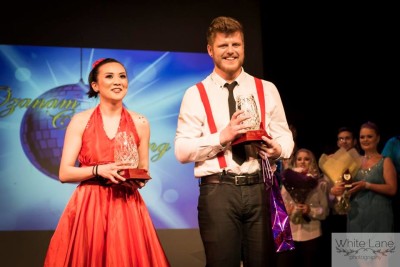 A huge thank you also to all of our dancers sponsors and to the companies who donated goods and services to the event, to all of our volunteer helpers on the night and to everyone involved for all of your efforts and support in making Ozanam Come Dancing 2017 an incredibly successful evening. We look forward to seeing you all on the stage next year!
Thanks also to Orla Keeshan at White Lane Photography for volunteering her time and taking some incredible photos of the event which can be viewed on a photo album here:
https://www.facebook.com/media/set/?set=a.1190973121015313.1073741830.915605275218767&type=1&l=ad6913179f