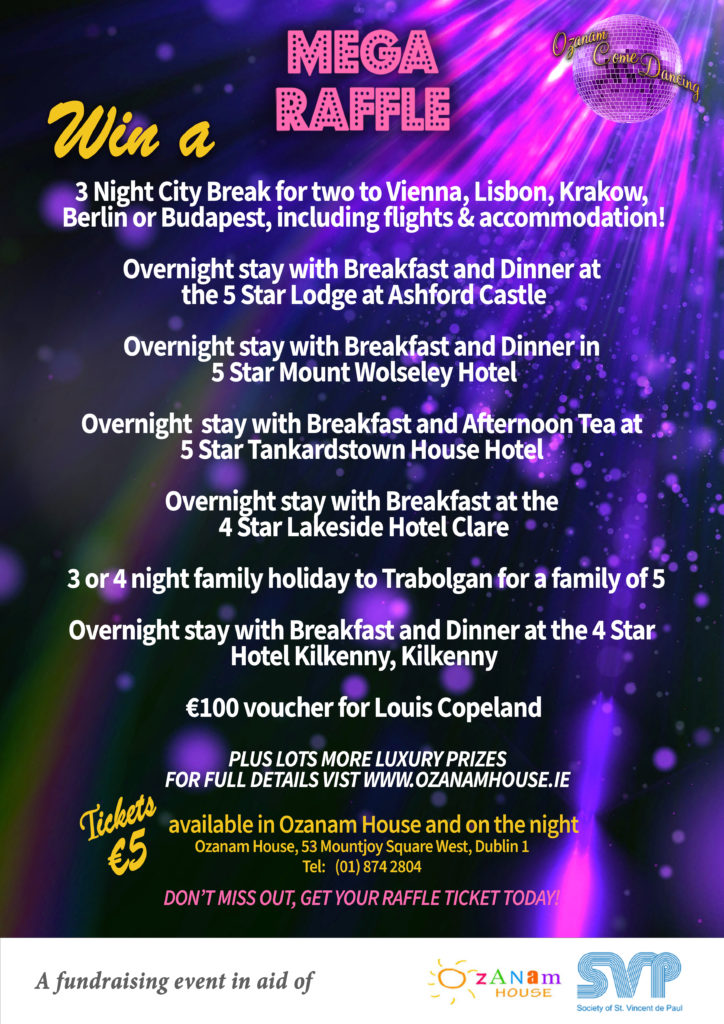 A huge congratulations to all of our winners of the MEGA RAFFLE which was held in Liberty Hall at Ozanam Come Dancing 2020, on March 6th last. See a full list of our winners below.
All of our winners have been contacted and will collect their prizes in Ozanam House over the coming days.
Thank you so much much to everybody that bought and sold tickets. Our raffle raised €7,000 towards our overall total raised funds of €67,000 for Ozanam Come Dancing 2020.
3 Night City Break for two to Vienna, Lisbon, Krakow, Berlin or Budapest, including flights & accommodation! ANNE DALY Ticket #2733
Overnight stay with Breakfast and Dinner at the 5 Star Lodge at Ashford Castle PATRICIA RYAN Ticket #0085
Overnight stay with Breakfast and Dinner in 5 Star Mount Wolseley Hotel MARY MORAN Ticket #0471
Overnight stay with Breakfast and Afternoon Tea at 5 Star Tankardstown House Hotel HANNAH GOFF-ROCK Ticket #1520
Overnight stay with Breakfast at the 4 Star Lakeside Hotel Clare SARAH KELLEHER Ticket #0455
3 or 4 night family holiday to Trabolgan for a family of 5 TOM ACKER Ticket #0333
Overnight stay with Breakfast and Dinner at the 4 Star Hotel Kilkenny, Kilkenny PJ Ticket #0124
2 VIP Tickets to see The Frames in Kilmainham on Saturday 20th June SAMANTHA LOCKET Ticket #2612
€100 voucher for Louis Copeland MICHAEL ROONEY Ticket #2574
4 Bingo Loco Tickets at a choice of Venues ANNEMARIE COLEMAN Ticket #1812
1 Night B & B stay at the Hilton Airport Hotel UNA COLLINS Ticket #2740
1-month Membership for Westwood Gym in Sandymount ANCA OLTEAN Ticket #1674