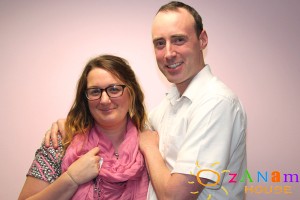 How are you feeling? How do you think you will do on the night?
Shane: "Still a little hungry. I am actually really looking forward to the night of dancing. Leah and I finished the main part of our routine last week and now all we have to do is add the polish and the pizzazz!"
Leah: "I am feeling excited, the butterflies are starting to set in!! I am hoping for a win because let's face it if you're not a winner…you're a loser!"
How is your partner getting on?
Shane: "Leah has been brilliant and has battled through a bad back to be a brilliant partner.  We're gonna rock (like Tony)!"
Leah: "Shane is doing pretty well. I just wish he would stop stepping on my toes!"
What were your best moments? What is your best memory of this experience so far?
Shane: "I've really enjoyed learning the moves and putting them to music, which is basically everything – so, I've enjoyed everything!  My best souvenir is gaining a new friend in Leah and a new skill."
Leah: "The best moment for me is yet to come! I think the performance will be the most memorable part however our rehearsal in the venue was great I enjoyed sizing up the competition"
Any tips for anybody thinking of doing this in the future?
Shane: "Do it!"
Leah: "Go for it! Just make sure you are committed to some hard work and lots of fun"