We are mid way through our Summer 2017 Programme and have undertaken a range of national and local trips to places of cultural and historical interest. Our trips have taken us to Donadea Forrest Park, Kilkenny Castle, Leighlinbridge, Drogheda, Battle of the Boyne, Bellewstown Racecourse and Drumcondra Church & Cemetery.
Yesterday (27th July), we undertook our most ambitious trip so far. We had a picnic lunch in the picturesque village of O'Briensbridge beside the river Shannon in Co. Clare. Bonners Bar & Grocery were also very kind to allow us use their facilities. Following lunch, we headed across to the Foynes Flying Boat Museum in County Limerick. Its an amazing venue and the staff were amazing and treated us all very well.
After a nice drive along the Shannon Estuary we headed back in to Limerick City for a delicious evening dinner in Dolans Bar. The chocolate fudge cake for dessert was particularly welcomed!
Finally, we paid a short visit to Moneygall in Co. Offaly to see where the former USA President, Barack Obama, famously drank a pint of Guinness in Hayes Bar.
We have 3 more weeks of cultural, historical and educational trips to undertake so will provide another update soon.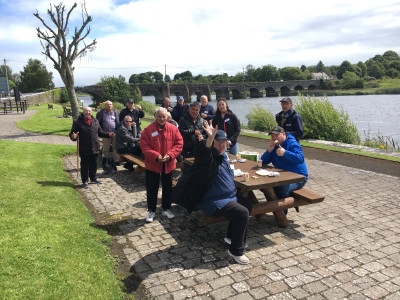 Left: Picninc stop at O'Briensbridge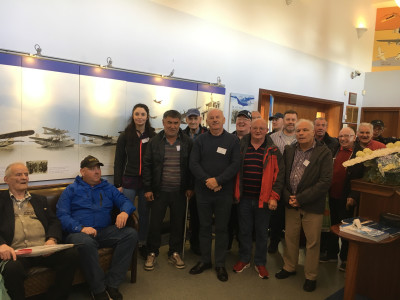 Left: Group photo in the Foynes Flying Boat Museum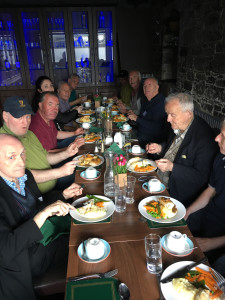 Left: Evening dinner in Dolans Bar, Dock Road, Limerick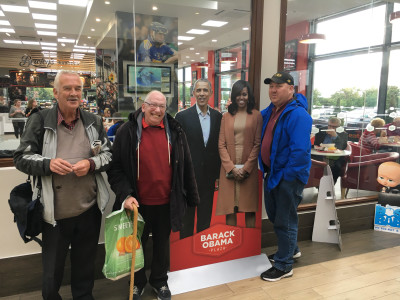 Left: Meeting the Obamas!