Information for Volunteers
General Information
We are in the process of establishing a free after-school coding club for young people in our community, as part of the CoderDojo movement, here in Ozanam House which is a community centre in the North Inner City run by the SVP.
CoderDojo is a global, volunteer-led movement that organises free computer clubs for young people aged 7–17, and there are more than 1600 clubs (Dojos) in countries all over the world. At a Dojo, young people explore technology and learn how to code in a fun, relaxed environment. CoderDojo gives young people confidence, a place to meet new friends, and valuable skills for the future, and it can open up new avenues for children who might not otherwise have such learning opportunities. You can find out more at coderdojo.com.
In order to be successful, a Dojo needs mentors — adult volunteers, with or without technical skills — who provide support, guidance, and encouragement for young people to complete their projects and develop their skills. Mentors in turn also receive opportunities and benefits by being a part of the CoderDojo movement as well as being a member of Ozanam House and SVP. I hope you will share this message with your staff and students, offering them the chance to contribute to their community by becoming CoderDojo mentors.
Champion's Handbook
In addition to the resources provided here at Ozanam House, there is also a depth of resources available through the CoderDojo website which includes activities for starting the class and the best software to use for programming. There is also a Champion's Handbook which gives the background information on CoderDojo, like how it was set-up and the organisation's ethics, how to get a Dojo up and running and how to structure the sessions.
Class Structure
Speaking of class structure, we are hoping to have 10 Ninjas (participants) per session, which will mean a Champion and at least three mentors facilitating the sessions. We would like to have 10 mentors on the books as a way of making sure there is enough cover. The sessions will take place here at Ozanam House and we will make laptops available to those that don't have any.
Time
The sessions will take place for two hours on Saturdays.
Skills
Do you have to be an expert in code and programming to become involved? No, not at all. While this is a bonus, it is not essential. We do ask that you do have some technical knowledge and are comfortable using computers and for your time and enthusiasm. Also, if you have experience in a similar set-up or a background in dealing with children and teens would be a bonus.
Process
The process is the same for all our volunteers. As we have a responsibility to all the service users at Ozanam House, everyone will go through the Garda Vetting process and reference checking. There will also be inductions and Child Protection Training provided.
Why be a mentor?
Mentoring provides volunteers with a host of valuable new skills and experiences:
–Communication skills: Interaction with young people and other mentors allows volunteers to develop their communication skills.
–Networking: Mentors will have the opportunity to form contacts with IT professionals.
–Develop programming skills: Mentors' technical skills will be fostered, as each Dojo covers several programming languages from beginner to advanced levels.
–Local community and youth work: Mentoring will give volunteers experience of working with young people while helping out and giving back to their local community. You can support young people in Dublin's North Inner City to develop skills which will give them opportunities to create better futures.
–Professional development: Many companies recognise CoderDojo mentoring as a great addition to a job applicant's professional development. Some companies that have worked directly with CoderDojo are Microsoft, Salesforce, Accenture, Riot Games, Deloitte, and Thomson Reuters.
Find a video illustrating what mentoring at a Dojo is like at dojo.soy/letter-mentor-vid
Interested?
Thank you in advance for helping young people in our community improve their confidence and creative skills while learning to build amazing things with technology. If you have any questions or wish to volunteer, please email us at admin@ozanamhouse.ie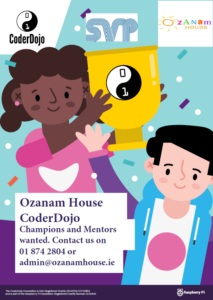 Ozanam Coder Flyer (Champions and Mentors[admin])