Aoife
Harry and I met a number of years ago through our shared love for sub-aqua diving. Together we've dived in caves and quarries and have been through many highs and lows…but have never done anything quite like Ozanam Come Dancing! Harry says I tricked him into being my partner as I asked him in the pub after making sure he'd had more than "just the one" but I would have gone to any length to support Ozanam House.
I work in the National Office of St. Vincent de Paul as part of the fundraising team. We are located just across the road from Ozanam House, so I get to see service users coming and going with smiles on their faces every day, and am inspired by the dedication and love offered by the volunteers and staff.
Although the Liberty Hall stage is very different to the Dublin bar dance floors we're used to, I hope you'll cheer us on as we dance our way to the big night looking like it's a 3 legged race!
Harry
Aoife and I met through DCU Sub Aqua 4 years ago. We became good friends and remain so (hopefully it's still true after this). Aoife asked me to partake in Ozanam Come Dancing as she needed a partner "who worked for a big corporate" so she phrased it, knowing I work for KPMG.
It was the first time I had heard of Ozanam House but I was interested in helping out. My level of dancing would be limited to all of two moves (well actually it's one but in opposite directions!). By partaking in Ozanam Come Dancing, I hope to be able to add to my existing two dance moves, make people aware of Ozanam House and use all of my 'Big Corporate' contacts to raise lots of funds for a great cause.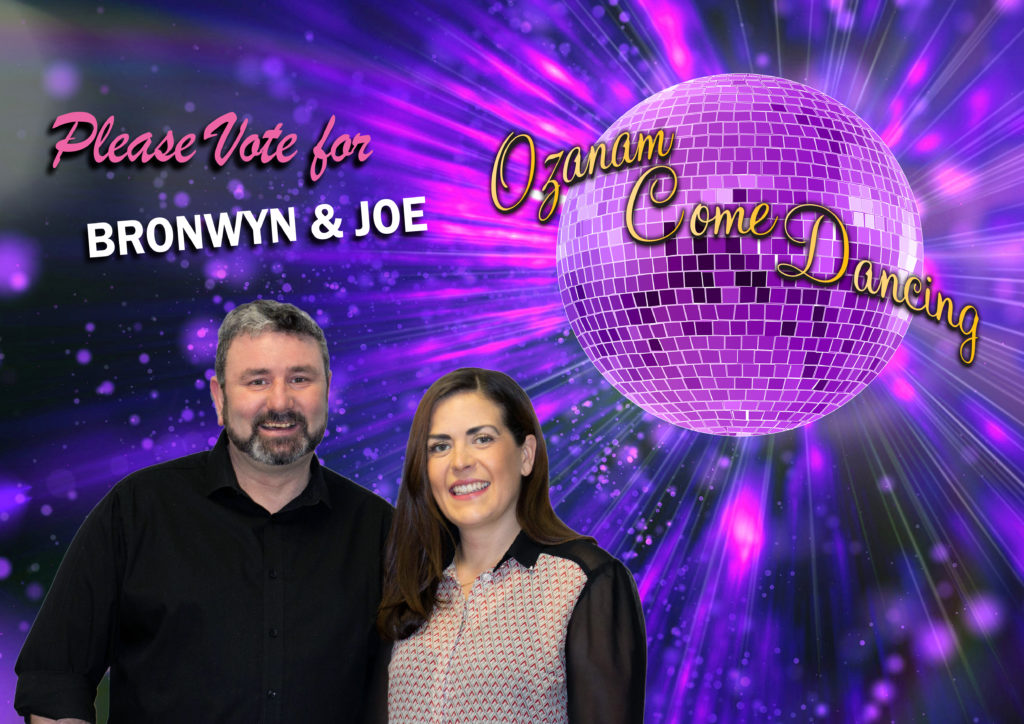 Bronwyn
I have volunteered for SVP for a few years and that is how I became aware of the great work that is carried out there. I took a career break this year and decided to volunteer in Ozanam House last summer. I think I enjoyed it as much as the kids!
Besides dancing in the kitchen, around the Christmas tree and at the disco, I have no dance experience and I never for a second thought I would be brave enough to take part in this. I'm hoping to raise lots of funds for Ozanam House and all those who benefit from summer camp, youth club, adult lessons and so many more! I hope to have lots of fun and learn something new about myself and maybe a bit of dancing too.
Joe
Hi, I'm Joe and I have worked in the George's St Arcade for the last 26 years in security and fully expect to be buried there by my colleagues for this! My great friend Bronwyn asked me to partner her as a last resort on her list I'm sure. Bronwyn has volunteered at Ozanam House so when she asked me to help her out and told me about all the great work they do, that was it, I was in!
My extensive dance experience is huge as from an early age through the age-old company of certain beverages I seem to dance a lot when it's on my side. I'm not condoning this practice mind you. My only fear would be my partner Bronwyn, she can't dance lol!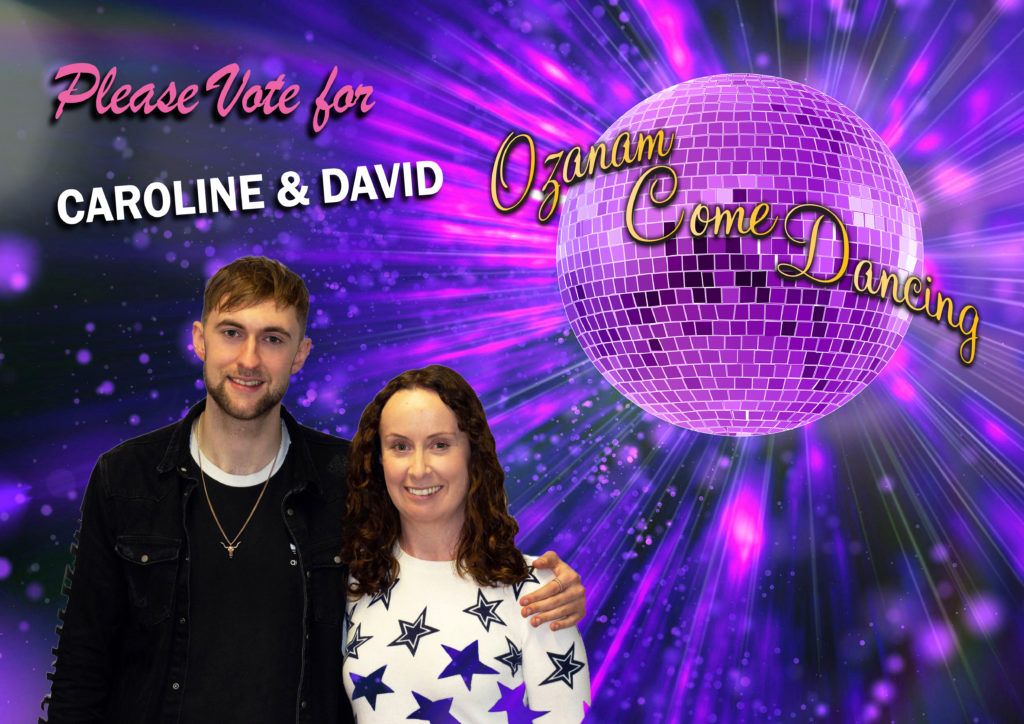 Caroline
I'm Caroline and I work for AIB. They have been supporting this event with some of my colleagues involved for many years so I am thrilled to be able to be involved myself this year. his is my first involvement with Ozanam House but having heard all about it I was blown away by what they do for the local community and now I'm really looking forward to volunteering & finding out all the ways they help the local community.
My dance career came to a halt aged 5 when my ballet teacher moved back to Greece! Time to rekindle that burgeoning dance career! So I hope to learn to dance, have fun & most importantly raise funds for a fantastic cause! My biggest fear, of course, is falling flat on my face in Liberty Hall! Am hoping though with June's help that won't happen!
David
When I heard about the Ozanam Come Dancing I initially wanted to be involved to raise funds for the charity and also because I genuinely enjoy dancing and always have. However, when I came to Ozanam House I was 110% committed to raising as much funding as possible for the centre and the people in the community.
Unfortunately, Dublin 1 is an area that has been left behind over the years as the rest of the city has grown and developed. The funds raised by the charity allow for adults and children in the local community of north inner city Dublin of all ages, to participate in activities that are simply not available to them elsewhere. I hope to do them proud.
Holly
Ozanam House is a fantastic resource for the D1 community and I'm so excited to see first hand what goes on in the centre. I've been in the audience for Ozanam Come Dancing before, so I'm more than ready to experience the other side of things now and raise as much as I can for an incredible cause! I'm currently in my penultimate year of Graduate Entry Medicine at UCD. On top of all my studies, I work part-time in Dance World, Ireland's leading dancewear retailer, who have worked very closely with Ozanam House for many years.
Growing up I did more dancing than studying, sadly that has changed the past few years but I'm looking forward to the challenge. My biggest goal is to raise as much funds as possible while spreading the word of what Ozanam House is all about. Of course, the fear of Tiarnan dropping me has always been there. I think it's a good test for our relationship. I trust him, I swear…
Tiarnan
I am currently a final year graduate medical student at the Royal College of Surgeons. I have juggled my studies for the past number of years with playing inter-county football for Fermanagh, as well as with my home club Derrygonnelly Harps. Hopefully, my footwork on the field will be transferable to the dance floor! I know the great work that SVP do all across Ireland so my main goal is to raise as much money as possible for Ozanam House. Being able to play a small part for this community and see the fantastic work that goes on here is an added bonus. AND…I'm finally getting to learn to dance, a skill I've always wanted to have. Coming from a sporting background I'm very competitive, so I'd be lying if I said I didn't want to win. Holly's fear is that I drop her but these are some of the safest hands in Fermanagh, although a football is a good bit smaller!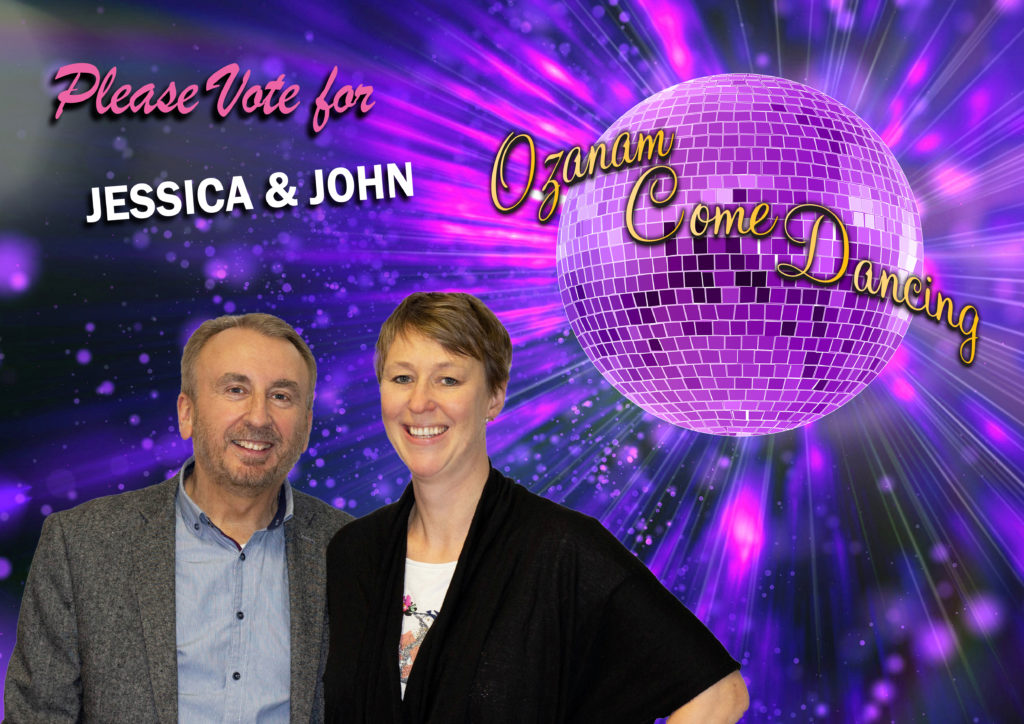 Jessica
Through my work in the City of Dublin Education and Training Board, I have known about Ozanam House for many years. They offer such a variety of activities and classes for all ages and people from diverse backgrounds -in particular children from marginalised communities. It is great to be able to support their summer programme – especially by dancing!
I love dancing – as a child I did ballet and then jazz-dance as a teenager – prancing around to the Rocky Horror Picture Show. Recently my dancing has been limited to children's parties, musical chairs and my children trying to teach me how to 'floss'. So, when I heard about Ozanam Come Dancing I thought it was high time to get back into the swing of things. I am hugely excited about this and I aim to win!
My biggest fear is that after the season of mince pies and mulled wine I only have 9 weeks to get fit, learn the steps and squeeze into a fabulous costume! But I'm sure – it'll be grand on the night.
John
I am a Development Officer with the City of Dublin Education and Training Board (CDETB). Through my work in the north inner city, I am very aware of the range of services and supports which Ozanam House provides to the local community. They do an amazing job.
My dancing experience is limited to the old Top of the Pops, shaking a leg at dances, weddings and parties and watching all the "Strictly" competitors from the comfort of an armchair. So quite a lot in fact!
A big achievement for me would be, to be able to move in a smooth and coordinated fashion and make it resemble something like a dance from "Strictly". My biggest fears would be failing to get the rhythm right and leaving my dancing partner Jessica to cover up all my mistakes. So nothing to worry about really!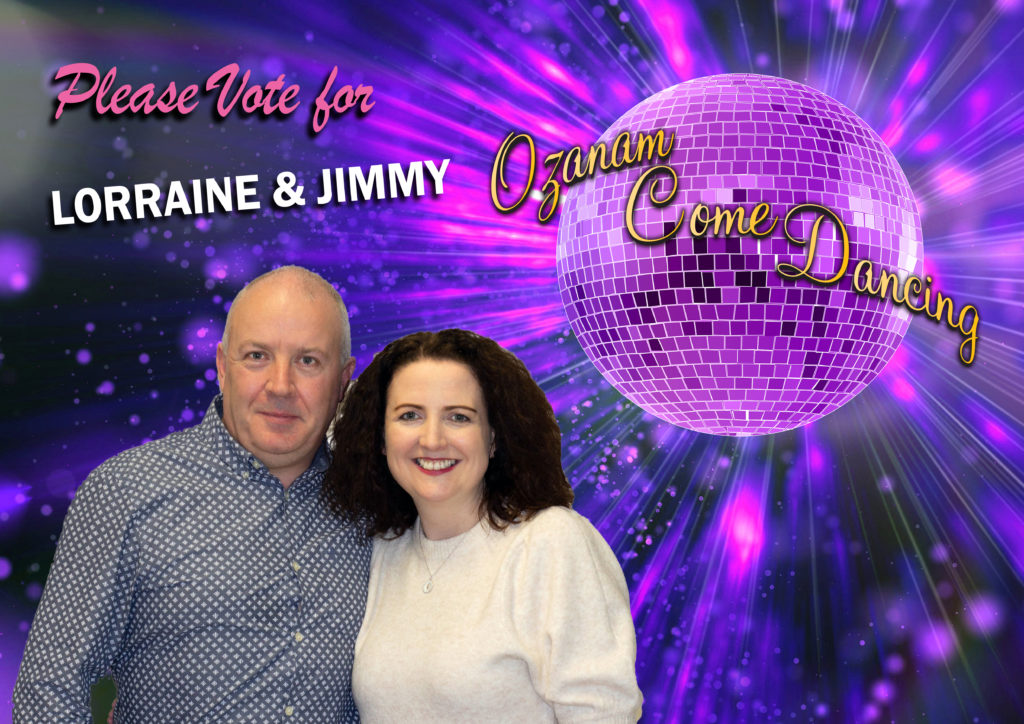 Lorraine
My name is Lorraine and I am the group conference & events sales manager at Hilton Hotel Dublin Airport. I have been so impressed with what I have heard about Ozanam House SVP since I first stepped into the centre. I love what the funds are going towards and am looking forward to being a part of something that will create opportunities for so many children in the inner city.
Having only taken a couple of Salsa lessons years ago, I am stepping into the unknown here really. I watched my sister tale part last year and decided to give it a go to raise much-needed funds for a great cause, learn to dance and have lots of fun!
Jimmy
I heard about Ozanam House and OCD 2020 from my friend and fellow dancer Bronwyn at an event for Ballymun Kickhams GAA where I am currently a juvenile mentor. I have enjoyed working for the Cyclone Group for nigh on 20 years now. They are a great bunch and will no doubt give me great support. I have no dance experience whatsoever so the nerves are kicking in but it is the same for the other dancers and we're all going to be there for each other.
Growing up in Ballymun, I know how important places like Ozanam House are to a community and how vital the Summer Projects can be to the children and young people as I've experienced them myself as have many of my friends. My biggest fear is getting it wrong on the night and letting Lorraine and our supporters down but hopefully, if we work hard enough, that won't happen. With your help, we hope to raise as much funds as we can for this very worthy cause.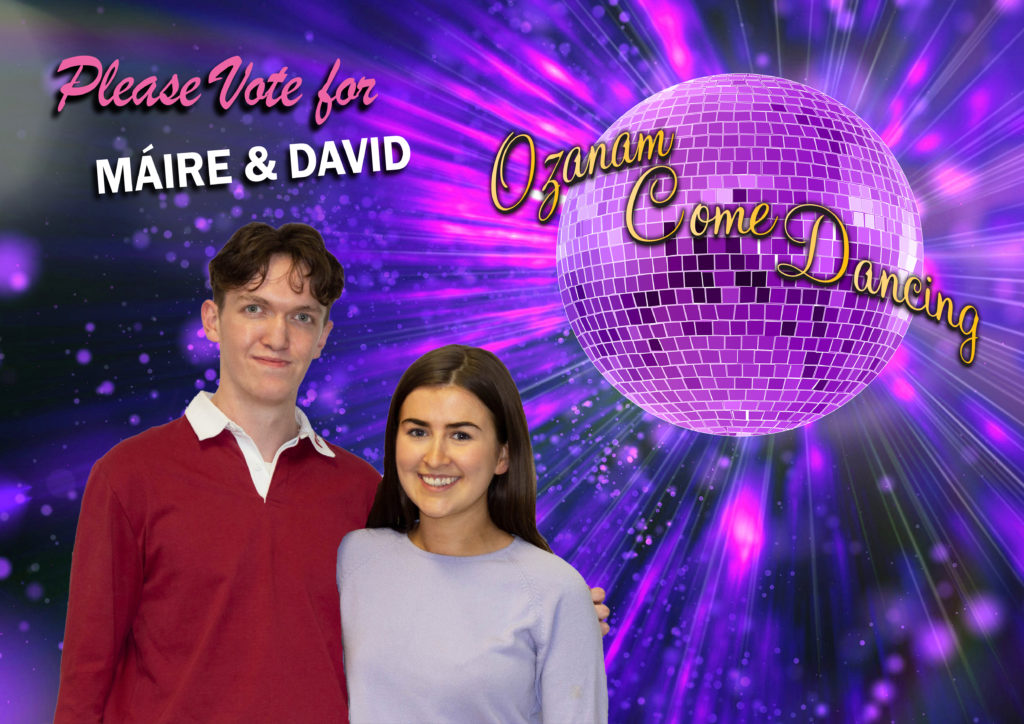 Máire
I am a full-time student at Trinity College and an active member of the VDP Society. The Trinity VDP society hosts a kids' Christmas party every year in Ozanam House with the kids we volunteer with during the year so I know the amazing work they do.
I used to attend weekly dance classes when I was in secondary school, however, I didn't keep them up when I got to college. Pity! I have many fears…. If we're talking generally, I'm not the biggest fan of spiders, but with regards to this experience, I just hope not to trip over myself on stage! I hope to raise funds and awareness of the great project that is Ozanam House's summer youth programme and also have some fun along the way.
David
My name is David Kearney and I am a student at Trinity College. I remember playing ultimate frisbee in Ozanam House with my school when I was in transition year so it's nice to see it from another angle. I have been involved in Trinity SVP since I came to college so enjoy helping out so was glad to get involved.
I have no dance experience, my uncle is an Irish dancing teacher and always tried to teach me stuff like the two-step but I never listened. I hope to raise as much money as possible for the kid's summer camps and also to have a great time dancing while getting to know Máire and the other couples. There's nothing I'm very worried about other than maybe dropping Máire on her head during one of the lifts… HaHa!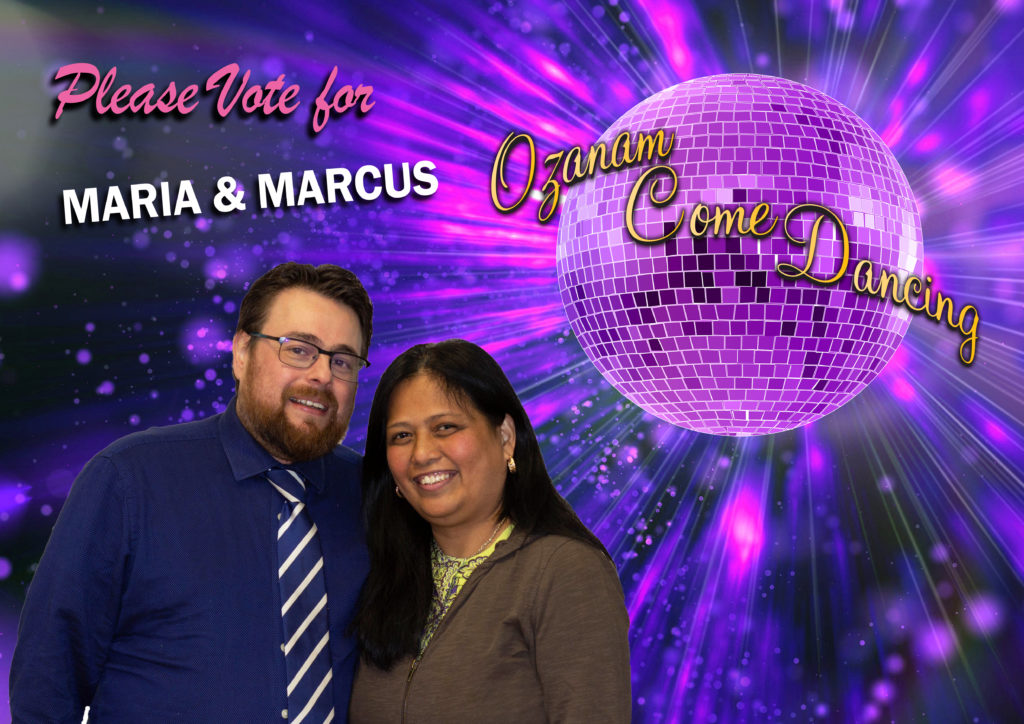 Maria
My name is Maria and I work with SVP as a relief manager in our charity shops across the east region. One of my colleagues was involved last year which got me interested as I love dancing. At first, I was hesitant to do it, but eventually, I made my mind up to give it a try and I am delighted I did.
It's not only taking part in the event and entertaining everyone that I am looking forward to. I hope to be able to help those in Ozanam House, to extend awareness of the amazing work that happens in the centre and of course to raise lots of funds and support the many children, young people and the elderly who benefit from the centre and from SVP.
Marcus
My name is Marcus, I am from Germany and I work for Liberty Mutual Insurance. I am good friends with one of the childcare staff in Ozanam House so I know about some of the great work that's done here. As I'm now settled in Ireland, I feel it's a good time for me to return some of the great hospitality I received when I arrived in Dublin and when the opportunity to fundraise through Ozanam Come Dancing came up and I was hooked!
I've done a little dancing before. I took ballroom dancing classes when I was 18 in Germany and over the last 15 years, I've taken some Salsa classes around the world, including, Germany, Ireland and America – how international! So I obviously hope to entertain the audience with a good show on the night, but more importantly, I want to be able to help Ozanam House to continue supporting the families, kids and older people that they work with into the future.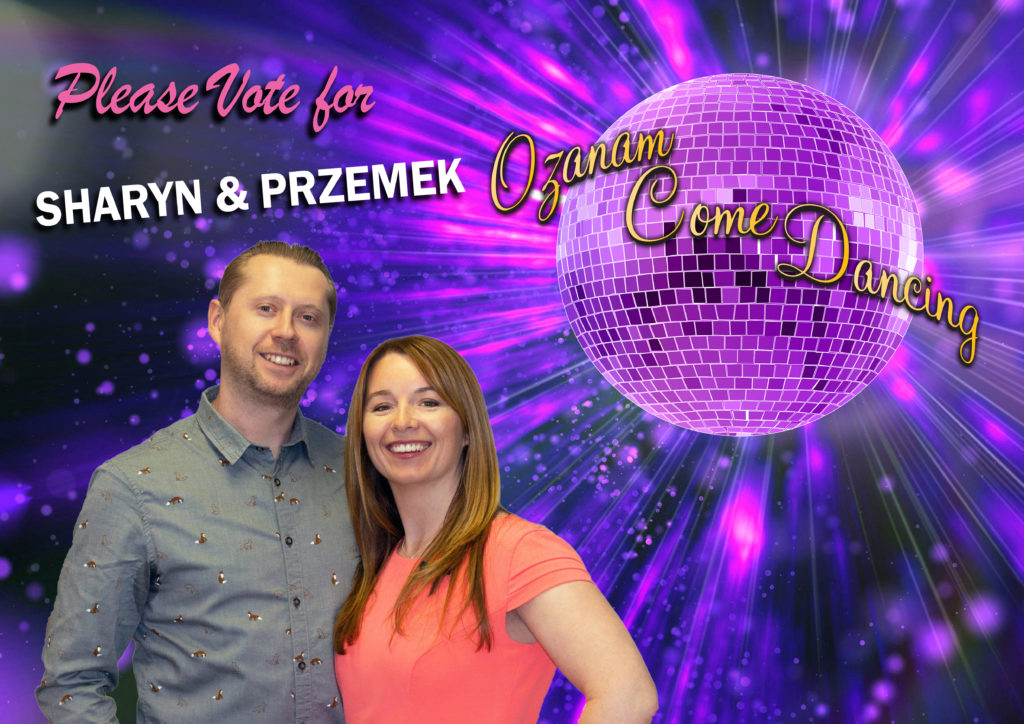 Sharyn
I've been a legal secretary in Eversheds Sutherland law firm for more 15 years. I first heard about Ozanam House when two of my colleagues took part in Ozanam Come Dancing last year. They had such a good time and brought so much awareness about Ozanam House to the company that when I was asked to do it this year, I didn't hesitate to say yes. And then, of course, managed to persuade my hubby to do it with me!
We're delighted to be given this opportunity. We hope to raise as much as we can in support of the programmes run and provided by Ozanam House for the children and young people of the community. As parents to an amazing little boy, we understand just how important these programmes are for not just the children but for the parents too.
Przemek
I'm a cinematographer and I've been making movies for the last 10 years here in Dublin. I got involved in Ozanam Come Dancing through the encouragement of my brilliant wife Sharyn, whom I met at salsa classes years ago. Together, we feel privileged and happy to take part in this great event for this great cause. I'm very much looking forward to working with our amazing choreographer and most of all to try out my dancing costume 🙂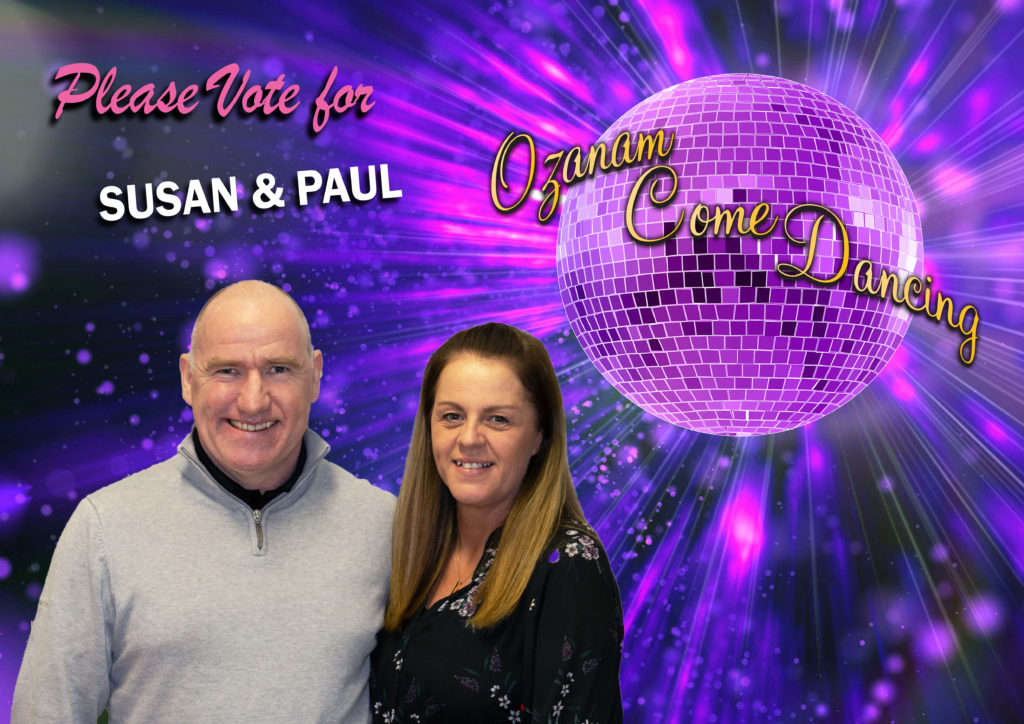 Susan
I have Worked for Ozanam House for the past 15 years with the Active Retirement Group, teaching adult education dance classes and the children's dance classes on a Saturday. I teach line dancing and hip hop in the centre and in many other areas of Dublin so this is something completely different for me and I can't wait for the challenge. I can't wait to learn a new style of dance but most of all to have lots of fun.
Ozanam House is a such a great resource for the inner city community and I hope everyone I know, all my students and friends throughout the city will get behind us and support us… and of course, I hope I don't trip up on the night!
Paul
My sense of involvement in Ozanam House is through my wife Sue who has been teaching there for 16 years. I work in a pharmaceutical company in Baldoyle called Mylan. My only previous dancing experience is Daddy dancing in Tomangos maybe! I'm looking to gain experience of the joy of dance, also to step out of my comfort zone. My biggest fear is not falling off the stage… but pulling a muscle, at my age!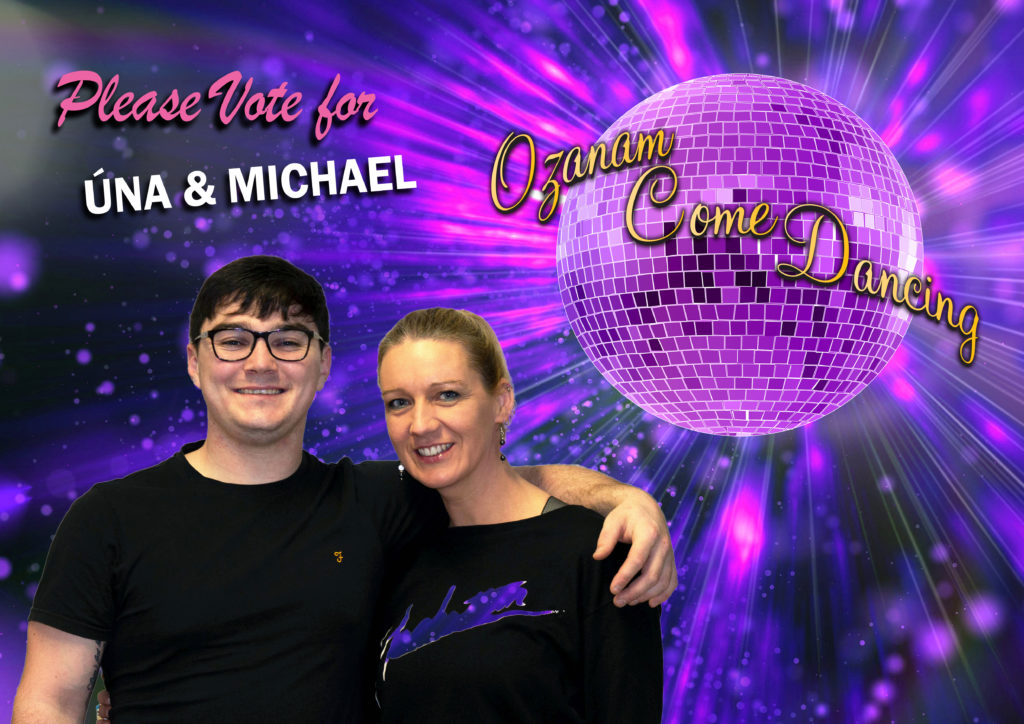 Una
My name is Una Collins. I am the Deputy Principal in St. Laurence O' Toole's CBS "Larriers", Seville Place, North Wall. I have been working in the school for 16 years and I love it. Over the years we would have had children in our school who would have used the services provided by Ozanam House SVP so I know it well.
I have no previous dance experience so this is going to be a new challenge for me… I'm sure it will be scary and exciting but I'm really looking forward to experiencing something new and fun. Just taking part is an achievement in itself and it will most definitely take me out of my comfort zone which can only be a good thing. Go Us!!
Michael
My name is Michael Spain and I have lived all my life not far from Ozanam House. It is my first involvement with the centre and I am absolutely buzzing to get started with everyone. I don't have much dance experience only when I'm in a night club teaching everyone a lesson in being a 'groover'. My dance partner is my former teacher so when she asked me I couldn't say no. I have done a strictly before and it is an amazing experience shared with everyone involved where you get to make great new friends.
I'd do anything in front of a million people, no fears at all! It's all about enjoying yourself in life and to fear nothing… as it holds you back! My only hope is to achieve lots in supporting the cause that we're all working hard towards, raising lots of funds for Ozanam House SVP, so let's blow it out of the park!