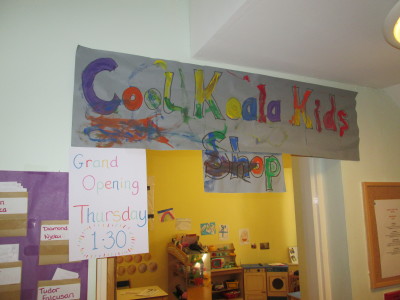 For the last 2 weeks the children in the Children's Centre have been learning all about money as part of a focus on numeracy. The children in the Koala preschool class decided to make a shop and invite their parents in as customers. We spent a lot of time getting ready for the grand opening, making rice crispie buns, whipping cream, preparing fruit and of course making money – Koala Cash!!
All of the parents came in and helped their children learn about money and commerce. Some of the parents even tried to haggle but the keen business heads on the Koala class refused to budge on their prices.
Lots of fun and learning took place through our shop and it was great to have so many parents taking part.