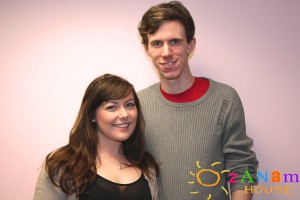 How are you feeling? How do you think you will do on the night?
"Nervous! But we're both really enjoying rehearsals and working hard to get better at the routine. We'll have to wait and see how we do on the night, fingers crossed it goes well!"
What do you think of the other competitors?
"The other competitors are great! All their routines look brilliant, I'm not going to lie it's a bit intimidating! It should definitely make for a really exciting show!"
Who do you think you have to watch out for? Who do you think is the best dancer from your fellow contestants?
"That's a really tough question because the dances are all so different. Sally and Conor are great dancers and look like they're really enjoying the dance. The Paso Doble looks amazing though as well, it's a really cool dance!" 
If you could have one dance with anybody you liked in the whole wide world, who would it be and what dance would you like to dance to?
Lauren: "Gene Kelly. I've done tap dancing since I was little and Singing in the Rain was always my favourite movie. If I could dance with anyone, it would be to have a chance to learn from the master! I think we'd dance to Happy by Pharrell Williams to shake it up a bit. Either him or Channing Tatum… for the Step Up lifts! "
James: "Ah here, I like it the way it is now…"