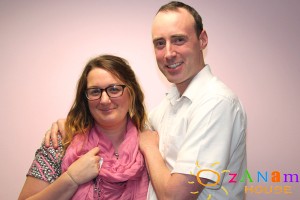 How are you feeling? How do you think you will do on the night?
Leah: "I am feeling pretty confident and well rested if I'm honest, I think we are going to do great, we are both naturals so haven't really had to rehearse at all!! :-P"
Shane: "I'm hungry.  As long as I'm fed I'm sure I'll be fine."
What do you think of the other competitors?
Leah: "I really don't think much of them…. I haven't engaged much in conversation because I don't like to get attached!! I like to keep that competitive edge!! You have to admire their bravery though, competing against myself and Shane must be very daunting. I think it's wonderful though that they are making the effort and offering up their spare time for such a great cause."
Shane: "Some lovely looking ladies! Haven't noticed the lads."
Who do you think you have to watch out for? Who do you think is the best dancer from your fellow contestants?
Leah: "I think I'm going to have to watch out for the edge of the stage!!!
As I said earlier I haven't really engaged much with the other dancers but at a push I would say Ann and Garry are our closest competition! "
Shane: "I think everyone seems to be working really hard and progressing.  There are dark horses all over the place.  Hard to know who is the best at the moment, but from what I see, Gary and Ann seem well placed."
If you could have one dance with anybody you liked in the whole wide world who would it be and what dance would you like to dance to?
Leah: "Wow! So many! Miranda Hart…. It would have to be a gallop to the theme tune of The Lone Ranger or Patrick Swayze…. Obviously!!! "Nobody puts Leah in the corner"!!!! Or even the cast of High School Musical: "We're all in this together""
Shane: "Eva Mendes,…to anything Latin."