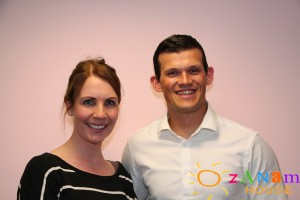 How are you feeling? How do you think you will do on the night?
"We feel unprepared so far! Hope the nerves won't get us on show night!"
What do you think of the other competitors?
"We can't sat much, they'll know we've been spying…but we can say, it'll be close"
Who do you think you have to watch out for? Who do you think is the best dancer from your fellow contestants?
"Everybody's looking good but we should say the other McCann FitzGerald couples…No pressures guys!!!"
If you could have one dance with anybody you liked in the whole wide world who would it be and what dance would you like to dance to?
"Sarah would like to duet with Fred Astaire, she is a 'Rogers'!"
"Joe would like a dance with Shakira, because her hips don't lie and neither does his!!"