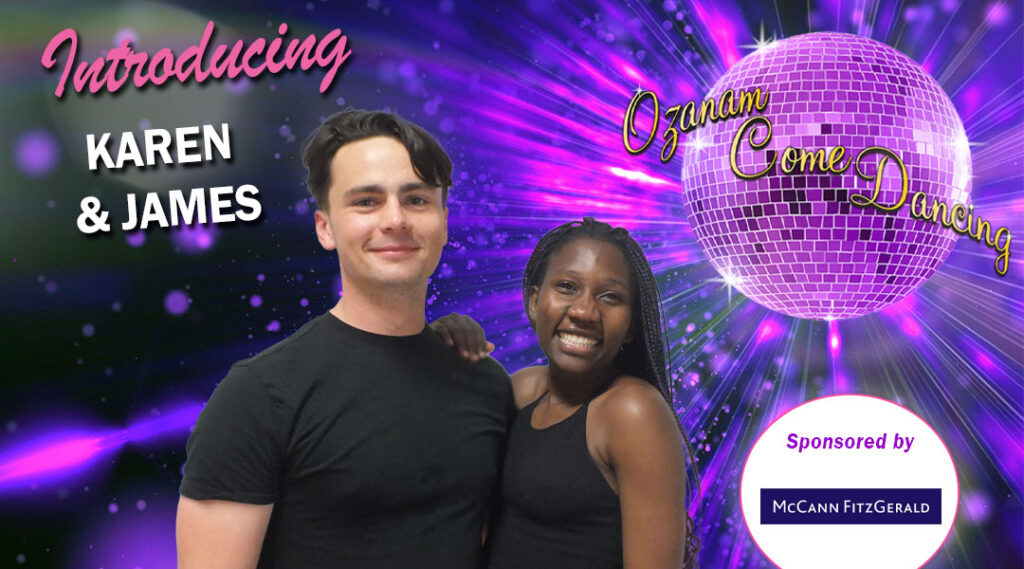 Karen
Hello there, I'm Karen. I study Radiation Therapy at Trinity College but in my dreams, I am a professional dancer. Ha ha! When not in college, I work part-time.
I heard of Ozanam House quite recently through the Saint Vincent De Paul Society at college. There was an open invitation for anyone who wanted to take part in the dancing, and I quickly signed up.
I have taken various dance classes over the years from Contemporary to Hip Hop. Recently, I have been dancing with an amazing community of dancers known as Southside Moves that focus on Afro Dance with some Twerk classes.
Honestly, I'm hoping to finally get my Strictly Come Dancing moment on stage and that glitter ball (if it's there) and to raise some funds for Ozanam House, of course. My biggest fear is this whole experience having to come to an end. I can already tell that its going to be an amazing journey.

James
Hello guys, my name is James O'Leary. I'm a 21 year old student volunteer with Saint Vincent de Paul Trinity. I'm an Activity Leader in one of the after-school programmes in the Inner City. I have always loved working with kids, if not through SVP, as a Gaelic Football and Basketball Coach with Trinity Sports Summer Camps. The work that Ozanam House does for not only kids through their Youth Groups, but the wider local community is motivation enough for me to push through what lies ahead. I want to give this opportunity 110% as my part in helping facilitate the work Ozanam House does. 
The minute I heard about this competition through our SVP President Ciara, I knew I had to do it! I had small bits of dancing experience from doing musicals and theatre shows growing up but I am always up to performing in front of a crowd. Mam had me watching Strictly Come Dancing as a child, so it was a dream to participate in a similar style of event. I am really excited to take on the challenge of learning a new dance from scratch, which is made much easier by having such a great partner in Karen, and a phenomenal dancing teacher in June. We are going to give a fiery, passionate and exciting performance for sure. We will be practising very hard, and would appreciate any donations. Thanks guys, and hope to see you all on show night!
If you would like to sponsor us, you can do so through the SVP website.
Karen and James https://www.svp.ie/fundraiser/karen-and-james/

Supported by McCann Fitzgerald
Check out more info about OCD and how you can help:
https://www.svp.ie/fundraiser/ozanam-come-dancing-2022/
Tickets are €25 and are ON SALE NOW from TICKET SALES.